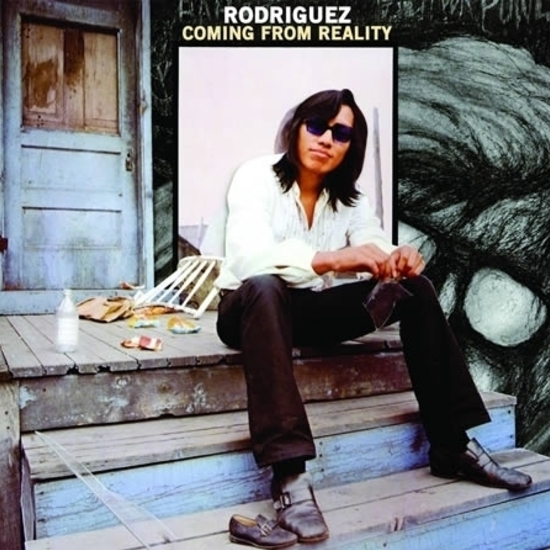 LITA 038
Release Notes
First Official re-release of the follow up to Cold Fact!
Recorded in 1970 with legendary producer Steve Rowland (Pretty Things, The Cure)
CD release includes deluxe booklet with new liner notes, rare photos, lyrics, along with 3 bonus tracks, recorded circa '72 w/ Mike Theodore & Dennis Coffey
Includes songs featured in the award-winning documentary film Searching For Sugar Man
LP features old-school tip on jacket, special die-cut sleeve, insert w/ liner notes, rare photos, lyrics, and 180 gram vinyl
Cassettes are hand-numbered and housed in a custom made Stoughton tip-on box. This type of box hasn't been used since the 70s! Deluxe all the way!
Back in 1971, Coming From Reality was Rodriguez's last gasp, the follow-up to Cold Fact and the final album he was allowed to record for the Sussex label. Unearthed, once again, by Light In The Attic Records, it's another treat for fans new and old, designed – at the time – as Rodriguez's vision of a perfect pop album.
Coming From Reality found Rodriguez decamping from Detroit to London's Lansdowne Studios, where the album was recorded with some of the UK's top talent including Chris Spedding (Sex Pistols, Dusty Springfield, Harry Nilsson) and producer Steve Rowland (The Pretty Things, PJ Proby and the man who discovered The Cure), who recalls Coming From Reality as his favourite ever recording project.
Highlights include the super-poppy "To Whom It May Concern", the "Rocky Raccoon"-inspired "A Most Disgusting Song" and period piece "Heikki's Suburbia Bus Tour". The CD reissue also includes three previously unreleased bonus tracks recorded in Detroit in 1972 with Cold Fact collaborators Mike Theodore & Dennis Coffey, representing the last thing they ever did together.
Meanwhile, the Rodriguez story keeps gathering pace. A Swedish documentary company are working on a feature length documentary about the enigmatic performer's life and music, and Rodriguez is planning to bring his live show to the UK and Europe come Spring/Summer 2009, along with further North America touring.
"It's an extraordinary trip," says Rodriguez of his new lease on life. "It feels like Picasso, Monet. All these exciting new thoughts coming at me. It's global. I'm lucky to have this second chance. It's very real and totally unexpected."
Sixto Rodriguez, then. Still coming from reality, and bigger than ever before.
Rodriguez receives royalties from the sale of this release