NEWS
2014-10-21
Interested in working for Light In The Attic? We're currently hiring a full-time Warehouse Assistant in the Ballard/Fremont area of Seattle.
READ MORE >
MORE NEWS >
MORE NEWS
2014-10-16
Gunslingers, drifters, outlaws... We've got three ace-high Ennio Morricone spaghetti western soundtracks out this week from our friends at CineVox Records. Bonus: each LP comes with an inlay poster!
READ MORE >
MORE NEWS >
NEW RELEASE
( LITA 123 )
Earlier this year, we released the mysterious, bewitching L'Amour, a 1983 private press record thought to be the only release by one of music's true lost talents: Lewis. Romantic Times is the 1985 follow-up to L'Amour – and it's released as Lewis Baloue. The name may be slightly different, but this is absolutely our man: a familiar blond posing on the sleeve, a familiar, tortured voice pouring his heart out over languid synths and synthetic waltz beats.
FEATURED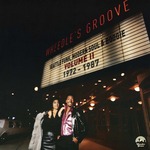 Seattle Funk, Modern Soul & Boogie: Volume II 1972-1987
( LITA 108 )
In 2004, the first volume of Wheedle's Groove shone a light on the formerly unheralded soul scene in 1960s and '70s Seattle, followed by a new album in 2008, and then an award winning feature-length documentary film. The on-going Wheedle's Groove series continues to present a vast chapter of the city's musical heritage that has little to do with long-haired rock dudes with guitars. But unlike Volume I, Seattle's soul scene did not stop in 1975. A new volume, Wheedle's Groove Vol. II, documents the period from 1972 to 1987, when funk was superseded by disco and modern soul. Compiled and sequenced by Seattle's DJ Supreme La Rock, this 18-track compilation will also introduce you to the forgotten sound of Seattle's soul & funk scene.