NEWS
2014-07-15
Country Funk Volume II 1967 – 1974 out now! Come hang this Sunday in celebration of Country Funk Vol. II at Good Times at Davey Wayne's in Hollywood. Co-producer Zach Cowie (Turquoise Wisdom) and Justin Gage of Aquarium Drunkard will be spinning the funkiest toe-tapping hip-swinging dixie fried jams. Party starts at 6pm and will run until 9.
READ MORE >
MORE NEWS >
MORE NEWS
2014-07-16
HERE
. The First Annual Summer Spectacular was a great success! Although Donnie & Joe weren't able to preform, the party was still blast. We want to give a big thanks to everyone who came out, as well as all the vendors and performers.
READ MORE >
MORE NEWS >
NEW RELEASE
Still Dreamin' Wild: The Lost Recordings 1979-81
( LITA 115 )
Some people have to wait for fame; some people wait even longer than most. Donnie and Joe Emerson are in a league of their own. In a relatively short span of time – just two and half years after releasing their first album Dreamin' Wild, the boys recorded close to 70 songs down on tape at that magical home studio on the farm. A dozen of them are included here on Still Dreamin' Wild: The Lost Recordings 1979-81 and ready to be enjoyed for the first time ever.
FEATURED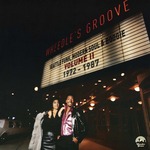 Seattle Funk, Modern Soul & Boogie: Volume II 1972-1987
( LITA 108 )
In 2004, the first volume of Wheedle's Groove shone a light on the formerly unheralded soul scene in 1960s and '70s Seattle, followed by a new album in 2008, and then an award winning feature-length documentary film. The on-going Wheedle's Groove series continues to present a vast chapter of the city's musical heritage that has little to do with long-haired rock dudes with guitars. But unlike Volume I, Seattle's soul scene did not stop in 1975. A new volume, Wheedle's Groove Vol. II, documents the period from 1972 to 1987, when funk was superseded by disco and modern soul. Compiled and sequenced by Seattle's DJ Supreme La Rock, this 18-track compilation will also introduce you to the forgotten sound of Seattle's soul & funk scene.