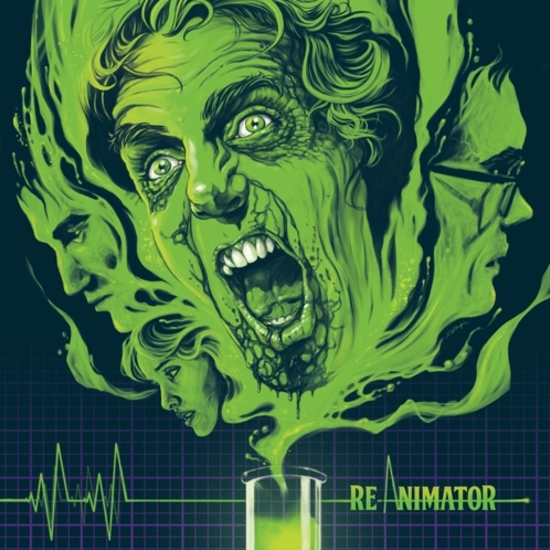 Richard Band
WW001
Release Notes
Second Pressing!
Original score composed and conducted by Richard Band (Puppet Master, From Beyond, Ghoulies, Castle Freak).
Re-Mastered for vinyl from original master tapes.
Original artwork by Ghoulish Gary Pullin.
180 gram lab coat white and reagent green swirl vinyl.
Liner notes by director Stuart Gordon and composer Richard Band.
Re-Animator is a 1985 American science fiction horror film based on the H.P. Lovecraft story "Herbery West – Re-Animator." Directed by Stuart Gordon, it was the first film in the Re-Animator series. The film has since become a cult classic, driven by fans of Jeffrey Combs (who stars as Herbert West) and H.P. Lovecraft, extreme gore, and the combination of horror and comedy.
Roger Ebert: "I walked out somewhat surprised and reinvigorated (if not re-animated) by a movie that had the audience emitting taxi whistles and wild goat cries".
Richard Howard Band is a composer of film music. He has scored more than 70 films, including From Beyond, which won the award for Best Original Soundtrack at the Catalonian International Film Festival in Sitges, Spain. His score for Re-Animator was lauded by the magazine 'Music From the Movies', which said, "Band's music is dark and direct, creating an intense and eerie atmosphere, but always with a humorous touch…. Surely, Richard Band is one of the most underrated composers in the film business."
Recorded in Italy in 1985, the Re-Animator score is performed by the Rome Philharmonic Orchestra. Layers of synth driven beats and eerie tonal figures layered by Richard Band make this score a classic within the horror genre, immediately recognizable amongst fans, and pays tribute to composer Bernard Herman (Psycho, Taxi Driver, Citizen Kane, Cape Fear).