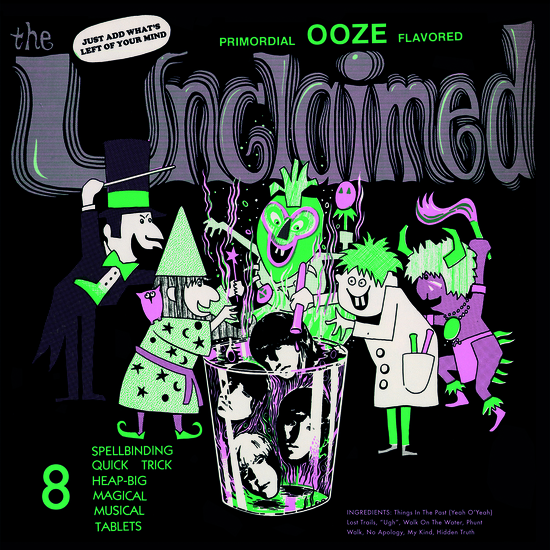 The Unclaimed
TEENS090
Release Notes
Reissue of the legendary mini LP released in 1983
The gatefold edition inlcudes both original album covers (US and German pressing) plus a full page interview with Shelley Ganz, vintage flyers, and brand new quotes and reviews
Transferred from the original tapes and completely remastered by Dave Klein Recording, L.A.
2 extra rare bonus tracks released as 45 in 1988 as a supplement of the iconic 80s Italian Fanzine "Lost Trails"
A legendary record first issued in 1983. The mini-LP "Primordial Ooze Flavored" by the L.A. Garage-Punk masters, The Unclaimed, has finally been REMASTERED from the original tapes in L.A. at Dave Klein Recording, and given an extra bonus with the inclusion of two tracks that came out only as 45, given away with the iconic 80s Italian Fanzine Lost Trails, run by our beloved journalist and Garage Punk guru Claudio Sorge.
This rich gatefold edition includes also an insert, new liner notes and previously unseen pictures!
These original tracks show how The Unclaimed were among the first garage revival bands (they were founded in 1979) and could incorporate influences by bands like The Electric Prunes, The Music Machine (their "dark, menacing, introspective fear & loathing"), Calico Wall, Seeds, The Syndicate Of Sound, Count V, Third Bardo and The Uncalled For, among others.
The sheer brilliance of this fresh remastering brings new life to these already famed songs.
Here at TEEN SOUND Records we're proud to present this second reissue from the Unclaimed catalog (after the EP Moxie), soon to be followed by another celebrated title: "Under The Bodhi Tree", now in the making, and…more…t.b.a. soon!
Limited 300/Edition.
"We were on the same bill with this band called the Unclaimed at some dive in Santa Monica. We didn't know what to expect, when they came on stage with their black turtlenecks and started doing "Little Girl", we just melted!"
~ Vicky Peterson, The Bangles (Creem Magazine, March 1986)