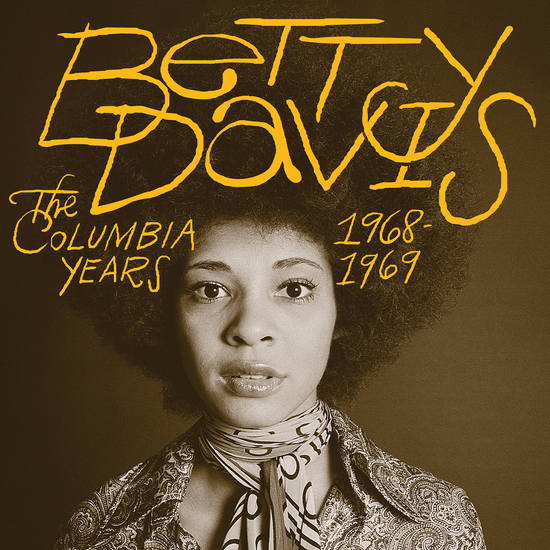 LITA 135
Release Notes
All tracks previously unreleased (except track B5/8)
Production by Miles Davis & Teo Macero (Tracks 1-6) with performances from Harvey Brooks, Billy Cox (Band of Gypsys), Herbie Hancock, John McLaughlin, Mitch Mitchell (Jimi Hendrix Experience), Wayne Shorter, and Larry Young, along with Hugh Masekela and members of The Jazz Crusaders (Tracks 7-9)
Remastered from the original analog master tapes
Rare photos by Baron Wolman and Courtesy of Iconic Images
New interviews and unseen historical documents from the Teo Macero archive


Deluxe "Solid Gold Edition" limited to 1,000 copies and includes 18″ × 24″ folded poster and "solid gold" wax. Limit two per customer.
"If Betty were singing today, she would be something like Madonna, something like Prince, only as a woman."
- MILES DAVIS
"Betty was a G for real."
- ICE CUBE
Please note: Jimi Hendrix and Miles Davis do not play on these sessions. Miles (along with Teo Macero) produced the sessions for tracks 1 thru 6 — all recorded at Columbia Studios in New York in 1969. Members of Jimi's bands, Mitch Mitchell (Jimi Hendrix Experience drummer) & Billy Cox (Band Of Gypsies bassist) perform on the New York session, amongst many other great players.
One can hardly imagine Prince, Erykah Badu, or Outkast without the influence of Betty Davis. Her style of raw and revelatory punk-funk defies any notions that women can't be visionaries in the worlds of rock and pop. In recent years, rappers from Ice Cube to Talib Kweli have rhymed over her intensely strong but sensual music. Betty penned the song "Uptown" for The Chambers Brothers and wrote the tunes that got The Commodores signed to Motown. The Detroit label soon came calling, pitching a Motown songwriting deal, which Betty turned down. Motown wanted to own everything. Heading to the UK, Marc Bolan of T. Rex urged the creative dynamo to start writing for herself. A common thread throughout Betty's career would be her unbending DIY ethic, which made her quickly turn down anyone who didn't fit with the vision. She would eventually say no to Eric Clapton as her album producer, seeing him as too banal. In 1968, she married Miles Davis and quickly influenced him on the magic of psychedelic rock along with introducing him to Jimi Hendrix—personally inspiring the classic album, Bitches Brew.
Miles and Betty fans have long debated the truth of a near mythological session recorded in Studios B and E at Columbia's 52nd Street Studios on May 14th and 20th, 1969. The landmark session was produced by Miles and Teo Macero and featured Betty on vocals, accompanied by Jimi Hendrix Experience drummer Mitch Mitchell, guitarist John McLaughlin, Herbie Hancock on keys, and Dylan/Miles session bassist Harvey Brooks. Other players included bassist Billy Cox (Band of Gypsys), saxophonist Wayne Shorter, and organist Larry Young. Now, Light In The Attic, with full support from Betty herself, presents these recordings to the public for the very first time. These historic sessions—never heard, never bootlegged—predate Miles' revolutionary album, Bitches Brew, and are the true birth of Miles' jazz-rock explorations, along with the roots for Betty's groundbreaking funk that came years later, starting with her self-titled debut in 1973. While, ultimately, these recordings would go unreleased for nearly half a century, they would greatly shape each of their careers.
The vibe is intrinsically unique, fresh, and futuristic—jazz heavyweights playing psychedelia, rock, and jazz-fusion long before the term became commonplace. The songs include Betty originals and covers of classics by Creedence and Cream. The concepts explored on these previously unheard sessions fueled concepts that wouldn't be fully realized until years later with Miles' seminal On The Corner.
Additionally, included here is the first time rerelease of a 1968 Columbia single, recorded in October 1968 at Columbia Studios in Los Angeles. The session was produced by Jerry Fuller and featured South African maverick Hugh Masekela on trumpet and arrangements, plus members of jazz-funk pioneers The Crusaders—including trombonist Wayne Henderson and pianist Joe Sample. Two of the three tracks included here from this session are previously unreleased.
This deluxe package is a treasure trove for both Betty and Miles fans, including rare documents from the pen of co-producer Teo Macero, rarely seen photos from legendary photographer Baron Wolman, and new interviews with Mrs. Davis herself, Harvey Brooks, and Hugh Masekela—the entire project overseen with Betty's full blessing.
Additionally, Betty has over the last few years been collaborating with the filmmakers Phil Cox and Damon Smith in a new feature length documentary being made by the London based production company Native Voice Films and producer Giovanna Stopponi. Release is expected for early 2017 with more information found at here.