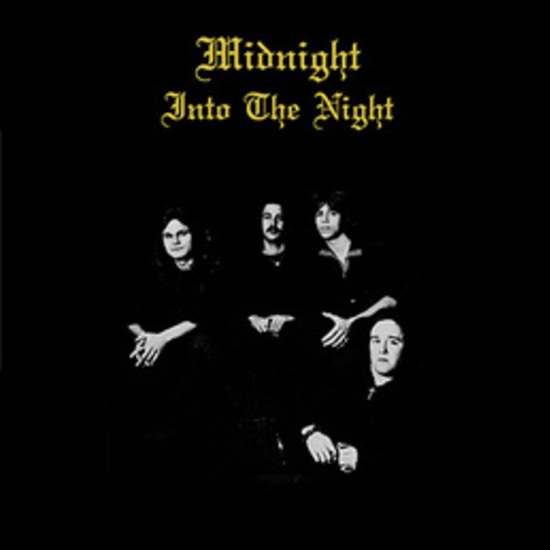 Midnight is one of those "shoulda/woulda/coulda" bands that might actually have made it—had their utter youthfulness not got in the way. Hailing from the 'burbs of Olympia Fields, Country Club Hills, and Chicago Heights, Illinois, Dave Hill (keys), Scott Marquart (drums), Frank Anastos (guitar, vox), and John Falstrom (bass) were all record-obsessed teenagers taking music lessons at Homewood's Melody Mart in 1974. After meeting, they realized that Hill, Anastos and Falstrom went to Rich Central H.S. in Olympia Fields, while Marquart was just down the road at H-F High School in Flossmoor. That same year they formed Midnight, covering hot and heavy hard rock songs from the likes of Uriah Heep, James Gang and Sabbath (natch!)—but they evolved quickly, playing house parties and high schools around the south suburbs in '75. By the following year, despite the teenaged years of their members, they were playing nightclubs and colleges in and around Chicago, while adding electrifying original songs to their repertoire. In the fall of 1977, still lacking either management or producer, the kids recorded their LP Into the Night at A-K Sound Recording Studio in Orland Park, IL—privately releasing it in early 1978 in a small edition, making it a majorly sought-after hard rock rarity today (Falstrom regularly gets offers of $100 or more for a copy!). Distributed themselves (and barely promoted), the LP certainly covers all the heavy bases with a wickedly raw mix, at times sounding like proto-doomers Pentagram, with the odd, occasional boogie number and power-ballad as well.
Following the release of Into the Night, the band continued to play out, including a show at the Aragon in late '79. Meanwhile, Midnight had recording sessions at multiple studios in and around the Chicagoland area—but Falstrom reports with some considerable regret that they let the tapes "slide though our fingers" over the years. He was recently able to locate and release the masters from a 3-song EP recorded at Columbia College in 1979 and then lost for 30 years—but Into the Night is the true legacy of Midnight.
The end of Midnight came in 1980, when the band chose to stop playing live and focus on writing new material—this insular existence led to irreplaceable powerhouse drummer Marquart quitting. And with that, the clock struck Midnight on this promising young rock group. Marquart moved to northern Illinois and Hill went to Green Bay, Wisconsin; in a Welcome Back Kotter move, Frank Anastos now teaches guitar lessons five days a week at Melody Mart Music Store in Homewood, where it all began. He and Falstrom continue to keep the old fire alive in a band called The Big Boppers. Falstrom got two music degrees (A.A. in Music from Prairie State College in 1984 and B.A. in Music from Governors State University in 1987), wrote a bass guitar theory instruction book called EADG 4, and he too gives lessons at Melody Mart Music Store! No matter how far away the old days are, the guys are still just a few minutes away from Midnight.