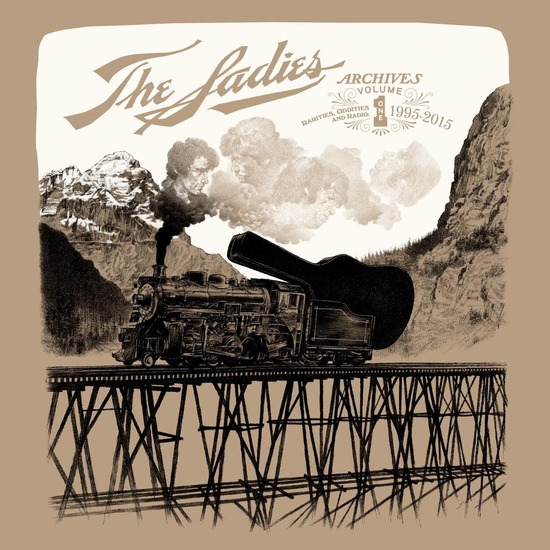 This album is compiled mostly of outtakes, radio performances, demos and some early 45s, none of which were ever released on Bloodshot or Yep Roc records. These sessions were recorded on tape, mostly in a single live performance. With hundreds of songs in the vault after twenty years, it was time to skim the cream from the top. Sadly, all the cream was actually at the very bottom so the process of bringing these songs to light has been riddled with delays. All of which, in my opinion, have been worth waiting for. I guess it's more like cream cheese.
Okay here we go.
1. Dying Is No Way To Make A Living
This is taken from our very first 45 that we released on our own label, Golden Horseshoe records in 1996, recorded in '95. We pressed 300. This recording features Andrew Scott on drums and Wiley, Travis' Alaskan malamute on lead vocals.
2. Little Sadie (Trad.)
This recording was broadcasted live from a radio show we did in Lawrence Kansas, circa 1999. It is one of three radio shows we ever played 'acoustic' but when we were starting out, we'd play like this fairly often in Toronto.  
3. Wagon Wheel
This terribly named song is also from our first 45. Both songs were re-recorded for our first Bloodshot record but these versions are way better. Recorded on Travis' 8-track cassette recorder.
4. J'ai Essayé De Ne Pas
J'aime la français mais… je ne suis pas un francophone. Mon francais est terrible. Je m'en excuse. Ce morceau est sorti en 2005 sur un 45t chez Mint Records. Bob Egan, merci pour la pedal steel. La chèque est à la poste.
5. Locust Eater
This is a demo I recorded of Sadie with my dear friend and idol, Bernie Pleskach in 1995. Great guy, as long as you keep him away from the accordion. Else, he becomes The dreaded Locust Eater.
6. Strange Birds (Langford/Sadies)
We originally recorded this song with Jon Langford and it was released in 2003 on our Mayors Of The Moon album. I wrote this song to a poem Jon wrote. I've been singing it live for a long time now so we re-recorded this song for a weird live 'iTunes session' we did a few years ago. I like it.
7. Algoma Reflections (Jet Pac/Socan)
The Shadowy Men on a Shadowy Planet were a huge influence on The Sadies in a million ways. They are dear friends. Don Pyle and the late Reid Diamond have been integral to Sadie's career since the very beginning (and Brian Connelly introduced me to Mickey Baker's wildest guitar record when I was 18). This song was released on a Shadowy Men tribute album long ago. Also recorded on Travis' old 8-track at a cottage in Quebec. Not very 'Algoma-y' but it still turned out nice.
8. All The Way Back Home (The Unintended)
Shit, where do I start? Well, I guess I start by saying this is not the Sadies. This is one of my favourite bands, The Unintended. Rick White and Greg Keelor have both had huge roles in the Sadies' sci-fi story of creation, albeit very different ones. Rick has co-written a bunch of our songs, shot some videos, did some of our record covers and Greg has produced us, sang on our records etc. etc. etc. They are key parts of the machine. I was living with Rick and playing in his band Elevator (through/to hell) when we began writing our s/t album together. It was recorded on Greg's 1" 8 track machine (7 track actually) on 03/03/2003. This was the only song omitted from the Blue Fog record. I can't remember why. We actually had to bake the tapes to mix this song for the collection so, first time for human ears folks!
9. Oh, How She Rides (James Ackroyd/ASCAP)
This song was originally on my dad's album, James and The Good Brothers from 1970. The Grateful Dead brought them to SF to record it and at least one of them play on it and all this other interesting hippy stuff. It's a great album. Our version is fairly faithful to there's and was recorded during our sessions with John Doe in 2009 but for whatever reason, we didn't finish it until 2015. Thanks John, Goldstein and D'Arcy. Dedicated to James Ackroyd.
10. Song For A 12 oz. Mouse
We wrote and recorded this song for a cartoon but I'm not supposed to say which one, in case they have a problem with us releasing it. The cartoon was great but very short lived, just like the song.
11. Walking Bum (J.Spencer/M.Verta-Ray Patricia Ann music/Marsupial Parlay Vous. BMI)
The year or so Sadie spent playing with Heavy Trash had some of my favourite concerts I've ever been a part of. Sadie would always open the show and Jon Spencer and Matt Verta-Ray were… I don't know, just amazing. Always different. I loved it. We recorded with them on their 'Way out with Heavy Trash' album from 2007 but this song was taken from a WFMU live radio broadcast we did with them in 2005. It was recorded live to air and this copy was dubbed off the airwaves. I love WFMU.
12. Mile Over Mecca
Paul "the critter" Aucoin played vibraphones with Sadie on many recordings and tours. That's him on Algoma Reflections. Anyhow, Paul did the string arrangement for this song (which first appeared on our Stories Often Told lp), and then had some Haligonian highschool kids play it for us. We played along and used it on a soundtrack long ago. Thanks Critter.
13. 1,000 Cities Falling (Part 1)
This was recorded live for CBC radio back in 2006 maybe? My archives are a little dodgy. I know it was out west because that's Paul Rigby on pedal steel.
14. External Sounds
This one is the only outtake from our last record. Just didn't fit. Doesn't really fit here either but hey, this is supposed to be weird stuff, right? It was actually written for a cartoon about space truckers that isn't out yet. Seriously.
15. Within A Stone
This is also from that iTunes session I mentioned earlier. I sang this on our Pure Diamond Gold album in 1999. Travis sings it here. Another thing about this one is Garth Hudson is playing the organ with us. An honour.
16. Ballad of immortal Joe
This piece is the second half of a score we did for a short animated film called, "The Ballad of Immortal Joe" by Pazit Cahlon and Hector Herrera. Trumpets by the inimitable Jonah Falco and creepy vocals by my creepy cousin, D'Arcy Good. Try and see this when it comes out. I think it's excellent. Nothing recorded from 1994 was used for this collection but we'd like to thank Ted Robinson for getting things started with us way back then. I should also thank Cyril and Robyn for inspiring this collection.
Well, that's about all I got. Thank you for listening.
Dallas Good
The Sadies are
Dallas Good guitar, banjo, keyboards, vocal
Travis Good guitar mandolin, vocal
Sean Dean bass
Mike Belitsky drums
With special guests
Andrew Scott drums on 1, 3 and 5
Bob Egan pedal steel on 4 and 7
Bernie Pleskach accordion on 5
Rick White acoustic Guitar and vocal on 8
Greg Keelor back up vocal on 8
Aaron Goldstein pedal steel on 9
D'Arcy Good back up vocals on 9 and 16
John Doe acoustic guitar and back up vocal on 9
Jon Spencer acoustic guitar and vocal on 11
Matt Verta-Ray guitar and back up vocal on 11
Paul Aucoin vibraphone on 7, string arrangements on 12
Paul Rigby pedal steel on 13
Garth Hudson organ on 15
Jonah Falco trumpet on 16